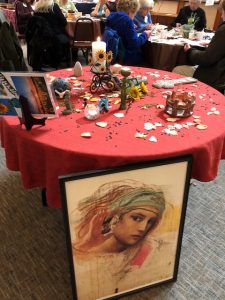 I just got back from leading a women's retreat for Napa United Methodist Church. Their United Methodist Women's group sponsored it under the theme, "Stretching Toward the Light." It was full of light and all manner of goodness on several levels. For one thing, of the forty plus women who participated, some were from neighboring Catholic or Unitarian Universalist congregations as well as from Napa Methodist. Since part of the blossoming of the theme was talking about our lives as spiritual gardens and together forming a "community plot" in this great garden of creation, it was beauty-FULL to have that "cross pollination" or a greater "variety of flowers" and the beauty we each offer one another in that way. I wish more often we could gather that kind of ecumenical goodness for such benefit.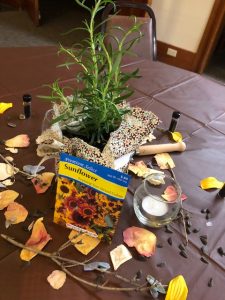 Our tables were set with flowers, seeds, gardening tools, flower petals, lit votives, sunflower seed packets and a little soil in the center to set the mood of the theme and allude to how sunflowers and their leaves stretch toward the light as they grow. With its decorations, each table became a worship center in itself, reminding us we were all on holy ground the whole time. When I first arrived in town Friday evening to set up, I knew we had talked about flowers at the tables and momentarily thought it strange none were blooming. But, there was much to do so I simply tossed that aside thinking perhaps the women thought they would bloom throughout the weekend or nothing blooming was available at the store. "Good to still have green" (!), I thought and moved on to finish other set-up. I want to pause a moment here to give some important spiritual background leading up to the retreat … (You'll see why in a moment.)
Months before I had discovered an awesome Carrie Newcomer song called, "Sanctuary." Part of the text is, "Will you be my refuge? My haven in the storm. Will you keep the fires warm when my fire's all but gone? Will you be be refuge? Bring me sprigs of rosemary, be my sanctuary …" It's an incredible song. Yet more powerful was how much it meant to a dear friend I shared it with who was struggling as she dealt with painful past memories. I brought her the song putting down "sprigs of rosemary" as we listened to it, vowing after to be part of her ongoing sanctuary throughout this challenging time along with two other women in particular she trusted to be so. Weeks before the Napa retreat I played that song many, many times, realizing how much the song had grown to mean to my friend (and me) as it symbolized on a larger scale the deep promise of holy love and presence for whenever we need it,  in each moment as we live, and the significance of how we become that as human beings for one another as we support and care for each other through spaces and places of all kinds.
Back now to Napa United Methodist and this retreat, to setting tables, getting ready, and then living through the retreat leading these women, being blessed by them, certainly wanting to be a helpful vessel, a compassionate companion to them on their journey all along the way. When the retreat ended, the clean up happened, the things from the table were gathered together, I heard it. The women from Napa who helped plan the retreat revealed the name of the "flowers" from the tables, and I smiled and said a soft, internal, "Holy wow." Rosemary. It was rosemary on each table the whole time.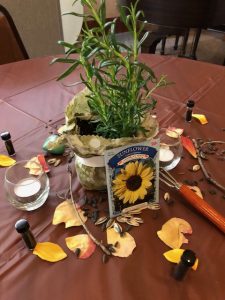 All weekend as I led, trusting and leaning into many colleagues and friends thinking of me, praying for me,  sending all manner of good energy my way, that rosemary sat there clear, quiet sign or witness of Divine presence with me, guiding me, carrying and keeping me. It was a reminder (I was apparently not meant to miss) of all the "sanctuary" God always promises, delivers, for each and all of us. While I was praying to be a vessel of God's love and grace, there sat that rosemary, vessel of all that and more, reminder of all kinds of "sanctuary" carrying and keeping us both from afar and as close as our breath. Holy wow. Blessed be.