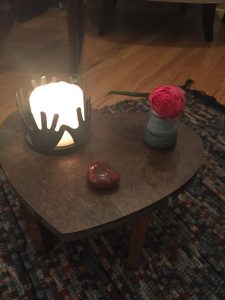 Spiritual Direction offers the gift of deep listening and compassionate companionship or accompaniment on the journey. Spiritual Direction is the gift of someone to sit with you in the garden of your life, looking around and digging in the soil a bit with you. There we notice what is being unearthed, dying, growing, blossoming, needing pruned, tending and more. We pay attention to places of energy, fear, yearning, grieving … Spiritual direction is not counseling, with the intention of "fixing" something. It is a way of accompaniment that honors the spiritual dimension of our lives, the way each of us knows ourselves best, and each one's personal language for and relationship with the Sacred.
Spiritual Direction typically happens once every 4-6 weeks, can occur in person or through Zoom or Skype if distance is an issue, (or a pandemic) and is available for a reasonable fee. Spiritual Direction can also be offered in a group setting with 4-6 persons.
Erin is also available to serve as a supervisor for spiritual directors. If you are a spiritual director needing supervision, contact Erin to explore that possibility.