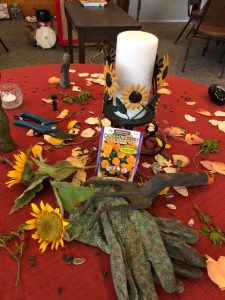 Erin has led a variety of spiritual events and retreats of different lengths from an hour, to several hours, a day, or a full weekend. They have been for women, men & women, staff or leadership groups, congregations or other communities exploring a theme or the future. They have explored a wide variety of topics and used a wide variety of metaphors. They have often integrated scripture, poetry, music, silence, time for journaling, walking, and more. Contact Erin to discuss your setting and needs to explore the possibility of collaboration and execution of something meaningful.
Spring of 2021 Erin led 3 evenings of SoulTending: Sacred Connections: Space for breathing, opening, grounding, re-membering, reconnecting to the Sacred within and holding all.  These experiences took place once a month Friday evenings on Zoom. Each evening offered the same experience at TWO different times so that persons across time zones could participate. Curious? Click on the blue brochure link. Erin hopes to map out new possibilities for 2023. She can also offer these or similar evenings for a special group you are part of.  Brochure
In October of 2022 Erin led a women's retreat on self compassion for Mercy Center in Burlingame, CA https://mercy-center.org
You can take this link direct to read about it. https://eventsframe.com/e/mD1faOonu/spiritual-spa-retreat-honoring-the-sacred-self-nourishing-a-compassionate-balance/
Erin would be happy to talk to you about leading this retreat for a group of women in your area. She does travel.