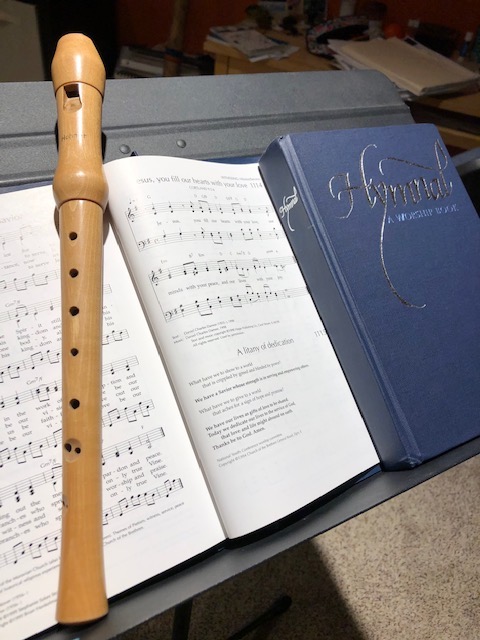 Just over a week ago I recorded a couple songs for use during a Holy Week Zoom service using my recorder and voice. It had been a while since I played or sang. The sound of the recorder and the feel of my voice was soothing – especially in the midst of a pandemic with constantly shifting ground. After I finished, I plopped down, leaned back into the love seat, and did what most people do when they finish a piece of the days work. I opened Facebook. The first visual in the feed was live footage of persons gathering in the chapel of Our Lady of Grace Benedictine monastery in Beech Grove, Indiana for evening prayers. I hit unmute immediately knowing the bells that always ring out calling persons to prayer there would be sounding. Unmute. Music to my ears. There they were, calling me in with the rest.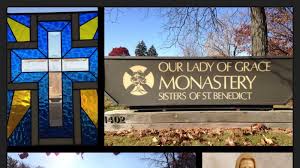 This might not mean anything to most people. But as one who has had a seventeen year relationship with those gracious grounds and many of the sisters who live there it meant more than any word could ever hope to say. As one who has shared laughter and tears, affirmations and encouragements with thirty-three Protestant women from various denominations in a spiritual formation program and reunions there over all those years (and communications between times through group emails and Facebook) it meant the world. Much more than the sound of bells echoed in me. And as those sounds slowed into silence, it was just like every time I'd been there before with those bells being called in, gathered up, calmed and quieted down into something deep and wide, gentle and oh so dependable, holding me in a way I never tire of being held by Love. What more could I possibly ever ask for or want, let alone in the midst of a pandemic that has shook every bit of life so loose that precious things continue to fall out of my pockets, each one's pockets, global pockets. Too many things – lost and leaving everyone with an uncertainty about whether they'll be lost forever, or some day found, picked up, and put back. Who wouldn't want to hear those bells starting right now?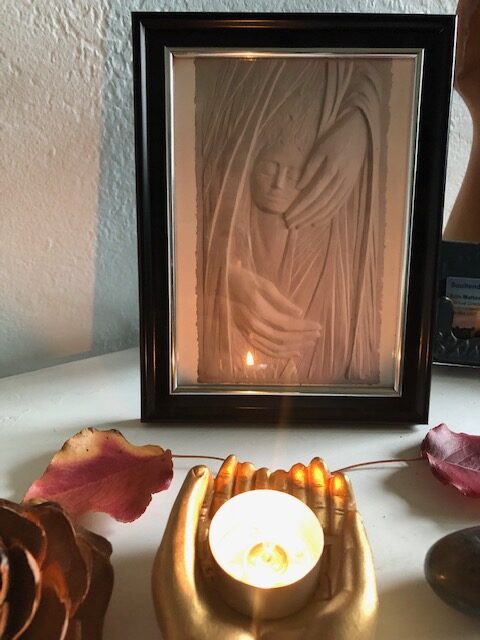 I don't know what else to call this, but some kind of "amazing grace moment". Something big, soft and sacred found me in my lostness over all the losses, picked me up and put me back in her soft Divine pocket. Just with the picking up and putting in she was already patting me ever so gently saying, "It's o.k. … I've got you." Leaning back into the love seat, (Yes – I get the beautiful irony …) tears began to slowly stream down my face. I knew I needed them to, and so tried to just let them flow washing away all the brave fronts I didn't even realize I'd let pile so high like inappropriate sand bags against a storm of grief that needed and deserved freedom to pass through. As the tears came the bells stopped. What moved us further into worship? The gentle soothing sound of a recorder, followed by a song. Perhaps my recorder and song earlier softened me enough to follow the bells into this music, all of it together summoning my grief to rise to where it needed in order to be tended.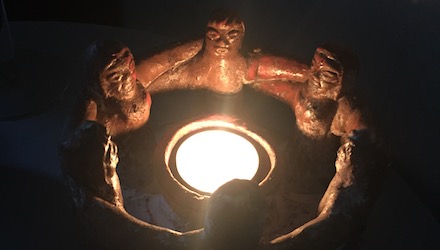 Regardless of how it all came together, this was clearly my very personal moment turning to face, and more importantly embrace grief as a result of the pandemic. We've all just lost so much. Where do we start with the naming? Pretty much life as we knew it in most every dimension is gone or in transition. What have you lost? A loved one? Your routine? Your personal space at home? Your sense of safety? The ability to have a memorial service? Immediate dreams you had, or long term ones? If we are lucky, amidst the lost, we find these personal grieving moments. Or they find us. My best friend told me hers came when she received official word she would not return to her classroom again this year and so not see her students again in person. I've heard several stories now. Moments in varied form with the common theme of softening enough for grief to rise and tears to flow, as one by one we dare to let our heart say aloud, "I'm really not o.k. I'm tired of the loosening and fraying of the fabric of my life. And please don't tell me about the learnings and benefits today. Or to stop whining, or look at the silver linings, though, or listen to people singing in Italy on balconies or to think of others worse off than me. Because today, I just need a moment. I need a personal moment to acknowledge my grief. I need to wear black and wail, for myself, others, and for a world that has lost loved ones, loved professions, routines and space, the physical presence of loved ones hugging and kissing and helping them, and so much more. I need to sit down or curl up, find my position of choice, and be held by Love as I cry a river till I'm ready to build a bridge and walk over it again."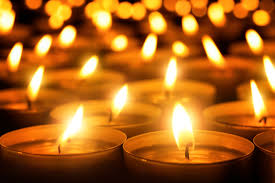 To every single person out there … I hope you find your moment. Or it finds you. A moment where you slow down enough for grief to rise and with abandon allow brave fronts to fall with each tear so the storm you need to let come can make its way through. On any day, or multiple days, when recorders or songs or something else unexpectedly softens you, may you go with the flow and let Love gather you and all your grief into a holy pocket where there can be Divine patting, holding, tending. May you embrace your own grieving moments unapologetically, with abandon.